Product Information
Basic System Configuration
Image SourceLED ControllerLED Display
Enable to apply various image sources, in accordance with its usage
Packaged Products
InfoLED Disaster prevention sign display board
Literal information display system for emergency alert
More details for infoLED
LED Display
In accordance with installation location, LED Display would be selected either indoor or outdor use.
Indoor use model
Viewing Distance
(Distance between LED display and viewer)
2m
4m
6m
8m
10m
Under circumstance of short viewing distance, such as retail shop installation case, it is recommended to select finest pixel pitch of LED chip. As a general guide for measuring appropriate viewing distance, it roughly calculates by multiple 1,000 times for selected pixel pitch. For example, applying 4mm pitch LED chip, it requires 4.00mm x 1,000 =4.00 meter, will be an appropriate viewing distance.
Outdoor use model
| | | | |
| --- | --- | --- | --- |
| Recommended display size | 4.5~10m2 | 7~28m2 | 7~50m2 |
Rental use model
Rental use model display is installed LED modules in metal chassis, for applying temporary installation case such as event and stage use. Various type models are available, including mesh type, has transparency to achieve see-through image. Please feel free to ask us for having best solution of rental use model for your installation plan.
Apart from the above mentioned models, we have various available models. Please feel free to ask us for having best solution for your installation plan.
LED Display specification comparison
ChromaLED
2B
ChromaLED
4B
ChromaLED
6B
ChromaLED
6B
ChromaLED
10B
Chromawall
12
Application
Indoor use
Indoor use
Indoor use
Outdoor use
Outdoor use
Outdoor use
Pixel pitch
2.4mm
4.0mm
6.0mm
6.0mm
10.0mm
12.0mm
Recommended
viewing distance
2m
4m
6m
6m
10m
12m
Maximum Brightness
(cd/m2)
2,000
1,500
2,600
5,250
6,500
4,200
Module size
(mm)
153.6x153.6
192x192
192x192
96x192
160x160
384x384
LED density
(dot)
64x64
48x48
32x32
16x32
16x16
32x32
Life time
(hours)
50,000
50,000
50,000
50,000
50,000
50,000
Signal interface
1.485Gbps
1.485Gbps
1.485Gbps
1.485Gbps
1.485Gbps
360Mbps
Corresponding
Controller
HLC-4K/HLC-2K/HLC-XGA/DLC-401
Operational
temperature
0~40℃ (32~104℉) Non condensing
Storage temperature
-20~60℃ (-4~140℉) Non condensing
LED Controller
Hibino's LED controller would be selected from 4 different types, in accordance with its usage.
Function of LED Controller
Unlike general commercial display product, LED display enables to configure screen size freely. To utilize this free screen size configuration, dedicated LED controller, combines functions of expanding or clipping images from image sources, to adjust output image on screen size. It also has a function of correcting image signal to adapt LED display's characteristic.
Unit jump
Combination images
Individual image
*All display examples are in HLC-4K LED controller use case
LED Controller specification comparison
4K/8K Correspond products
LED Display
High resolution indoor use modelChromaLED 2B
High image quality indoor use modelChromaLED 4B
LED Controller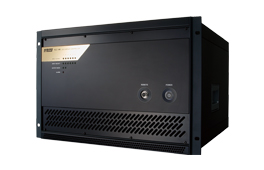 HLC-4K
HLC-4K, enable to display 4k resolution (4,096x2,160dot) by 1 unit
Stable operation result
Chromatek's loyalty of color rendering
infoLED, Universal designed Disaster prevention sign display board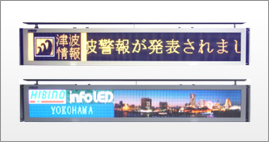 Instant display for disaster information, like earthquake, Tsunami (seismic surges), and weather
Multiple languages and full color display feature help to transmit accurate information for every person, non-Japanese speaker, visually or auditory impaired person
Lower power consumption (3.3kwh storage battery enables to run display board for whole 24 hours)
After the great East Japanese earthquake, it grows increasingly importance of accurate information transmission among administrative region and communal facility, where many people visit.
Hibino utilizes its experience and knowledge about LED display systems, and developed InfoLED, Universal designed Disaster prevention sign display board, enables to transmit instant and comprehensible information to everybody. In usual situation, it displays facility information, news, etc. When it comes to emergency situation, it displays emergency information, in corporation with emergency system network.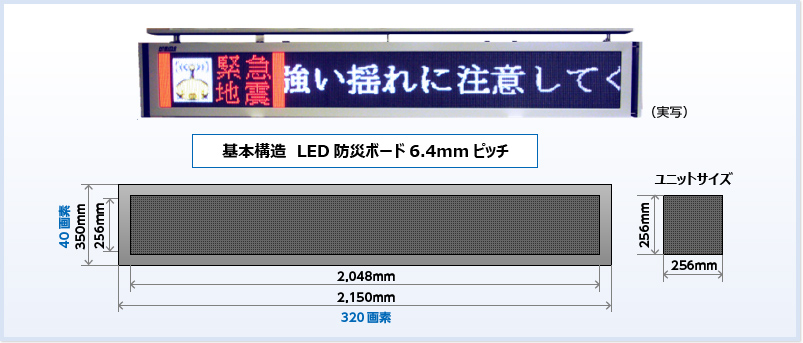 Basic system configuration

Display image sample of inofLED, Disaster prevention sign display
| | |
| --- | --- |
| Earthquake information | |
| Tsunami information | |
| Weather information | |
| Volcanic information | |
| Guide information in usual condition | |
| News | |
Specifications of infoLED, Disaster prevention sign display board
Indoor and outdoor use
Model No.
AUD-618
Pixel configuration
3 in 1 SMD
Pixel pitch
6.4mm
Brightness
5,500nits/m2
Viewing angle
Horizontal120° Vertical50°
Operational temperature
-20°~50°
LED chip life time(50%)
≥50,000h
Minimum viewing distance
Optimum viewing distance6m~
Gradation process
13bits
Display refresh rate
≥640Hz
Display board size (except douser)
W2,150×H350×D150mm
Power consumption
(Maximum)300W
(Average)120W
Weight (except douser)
Approx. 30kg
Ambient condition: Dust and water proof
IP65