Company outline
Office location
Hibino chromatek division / R&D center, business administration division, Hibino GMC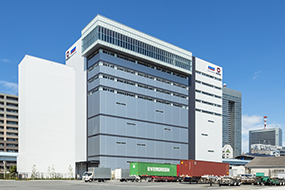 8-50-14, Shinyoshidahigashi, Kohoku-ku, Yokohama-shi
Kanagawa 223-0058, Japan
Location map(PDF/353KB)
Access (PDF/293KB)
Hibino Chromatek Division
TEL : +81-45-534-1151 FAX : +81-45-534-1154
R&D center, Business Administration Division
TEL : +81-45-534-1153 FAX : +81-45-534-1154
Hibino Asia Pacific Limited
Unit 1618, 16/F, The Metropolis Tower, 10 Metropolis Drive, Hung Hom, Hong Kong
TEL : +852-2637-7368
FAX : +852-2637-2110
Email: info@hibino.com.hk
Hibino Asia Pacific (Shanghai) Limited
R/N 101, No. 3 Bldg., D1 International Creative Space, 909 Tianyaoqiao-Lu, Shanghai 200030, P.R.C
TEL: +86-21-5419-8591
FAX: +86-21-5419-8593
Email: tommy@hibino.cn
Hibino Chromatek div.'s business profile
1964 Nov
Established a sound equipment company, Hibino Electro Sound, Inc.
1995 Feb
Took stake in Chromatek Inc., and started operation of development assistance and sales service of Chromatek's product.
1996 Nov
Chromatek Inc. exhibited Full color LED display system in International Broadcast Equipment Exhibition (Inter BEE). 
1997 Jun
Chromatek Inc. developed High resolution LED processor and portable LED display.
2001 Aug
Chromatek Inc. changed its trade name to Hibino Chromatek Inc.
2002 Mar
Additionally acquired 200,000 stock of Hibino Chromatek Inc. was become to wholly owned subsidiary.
2002 Nov
Hibino Chromatek Inc. was integrated into Hibino Corporation and became Hibino Chromatek division to start product design and manufacture.
2003 Jan
Started to deal with Lighthouse Technologies's LED display system as a distributor.
2003 Apr
Transferred sales service of LED display system internally from Hibino SI division to Hibino Chromatek division. 
2004 Mar
Acquired ISO9001:2000 Quality management system.
2004 Aug
Hibino Chromatek division developed LED display system has been adopted in opening ceremony of 2004 Athens Olympic Games.
2005 Apr
Hibino SI Division was integrated into Hibino Chromatek division.
2006 Jun
Developed DLC-612, world first 4K correspond LED processor.
Defined brand name of ChromaLED, for Hibino producing LED display systems and started sale for ChromaLED 6B, implementing new developed black face type LED chip and black type mask.
2007 Jan
Contracted exclusive distributor with Element Labs Inc, based in U.S.A., and started to sale for STEALTH, LED display system.
2007 Apr
Made Item Plus Co., Ltd. a 100% subsidiary.
2007 Apr
Established Hibino Europe Limited in United Kingdom as 100% subsidiary.
2007 Aug
Established Hibino Asia Pacific Limited as a local company in Hong Kong.
2007 Nov
Developed LumixLine, world first LED display system, in rope-figure with full image transmitting feature.
2008 Nov
Developed Chromawall, all weather and transparent type LED display system.
2009 Jan
Merged Item Plus Co., Ltd. into the Hibino Chromatek division.
2010 Apr
Established Hibino Asia Pacific (Shanghai) Limited in Shanghai, China.
2010 Nov
Developed ChromaLED 3D, 3D correspond LED display system.
2011 Nov
Made Hibino Asia Pacific Limited and Hibino Asia Pacific (Shanghai) Limited, 100% subsidiaries.
2012 Oct
Developed InfoLED, universal designed disaster prevention sign display board.